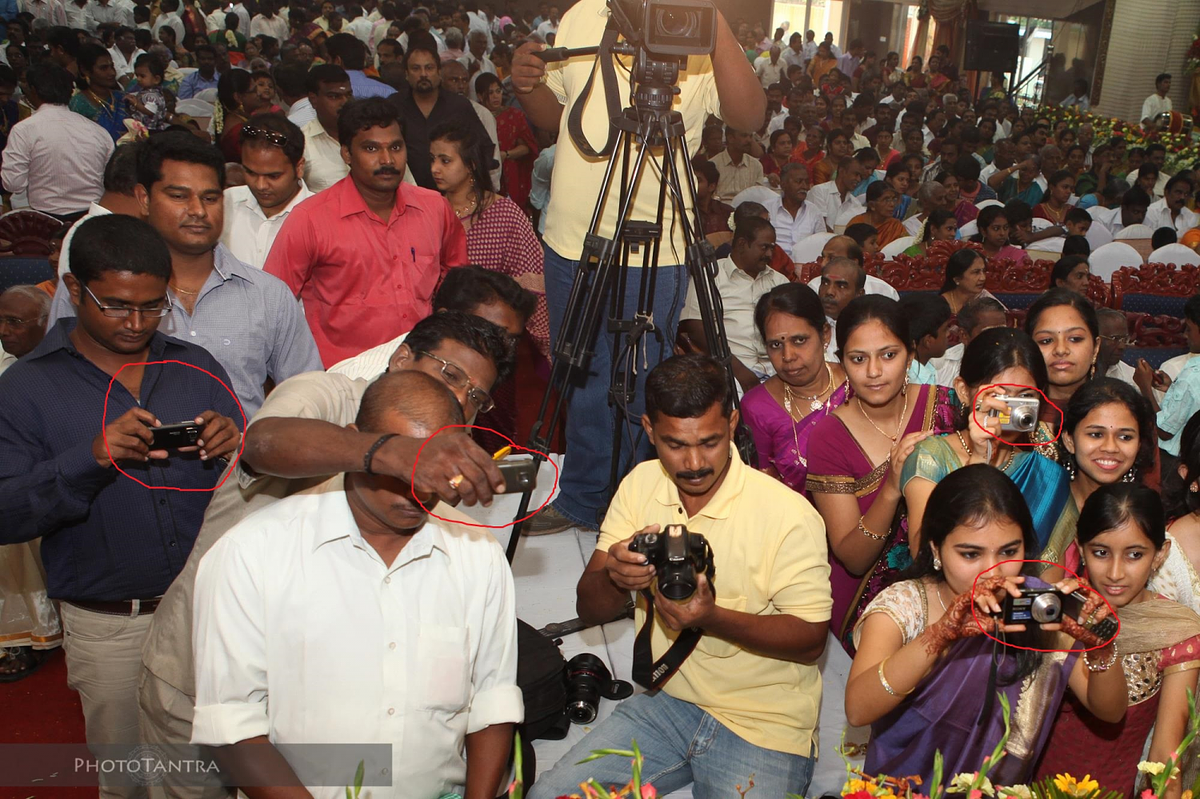 How many photographers do you see in the above photo? Can you see that the professional photographer is not even getting enough space to move around. And what about the guests behind? They are completely cut off from seeing what is happening on the stage because of all the people standing to take photos. Please do not let it happen to your dream wedding. 
If Deepika Padukone and Raveer Singh are actually planning a no cell phone rule for their upcoming wedding in lake Como in Italy, then we are really thankful to them to set an example. We as wedding photographers have an unending list of reasons why we love a no cell phone policy or an unplugged wedding but let us also tell you how you will thank us for this post because frankly speaking, these photos firstly do not look good and secondly, they ruin your whole wedding experience. Here are the reasons why: -
Wedding Unplugged
Guests with phones, iPads and cameras unknowingly get in the way of the photographer. Since they are not professional photographers, they do not usually know how to take photos without coming in the photographer's frame or without blocking the official photographer's view as a result they ruin the professional photos of the wedding.  Remember, this is your wedding, you make the rules. You would have spent hours searching for a wedding photographer, you would have spent money and time in meeting and shortlisting your photographer.  You would have had fairy-tale image of your wedding and want your photographer to capture exactly that image. And lastly, you are paying a lot of money to a professional whose job is to take photos of your wedding. Now imagine, these photos getting ruined because in every frame there is a photo bomber or someone's hand, someone's cell phone or someone's tablet screen. How would you feel? Some might argue that with Photoshop you can correct all of that. But do you realise the time and money it costs to digitally correct each photo using photoshop? Your photographer is a photographer not a digital photo shop artist (Yes. Photography and Photoshop are two different expertise and different set of jobs). For bulk photoshop corrections your photographer might have to engage a professional photoshop expert and this will add up to your budget. Surprise! Surprise! And not a pleasant one.
These guests might block your view by standing in the mandap when your bride walks in for jai mala. You might miss your first glance because your view was blocked with someone's screen. Remember again, it's your wedding, your way and these moments won't come back ever. 
Honestly, cell phones are a distraction. You want your guests to enjoy your wedding but if they are busy taking photos then when do they get the chance to enjoy your wedding? They are missing all the fun, all the high moments of the wedding.  They are missing the essence of the wedding which is you and all the efforts that you have put into making your wedding a memorable experience for everyone.
And finally, the most important point:
4. Privacy is a huge issue for such images which keep floating around on everyone's social media accounts. With your professional wedding photographer, you can have a control over how many photos can be published on his/ her website or his or her social media platforms. You will have control over which images you want to get published online. You may even have the option to say no to your photographer if you don't want any photos to be on social media. But with 100 guests taking thousands of photos, you will have no control over your privacy. Your private moments could be floating around anywhere and for anyone to misuse.
So How do you tell your wedding guests about No Cell phone policy?
Write it in your invitation card that you are planning an unplugged wedding or a strictly no cell phone policy.
Sense of humour goes a long way. Have fun, smartly displayed boards or placards at the wedding mentioning the same. Take the help from your decorator.
Ask your MC or Emcee or your priest to announce that the wedding has strictly no photography during the ceremony.
Ask your trusted friends or family members to politely inform any guests who is seen breaking the rule.
Have a photo booth for your guests with interesting theme where they can get their selfies clicked or get an instant print or a digital copy.
Have an insta account or a hashtag where your official photographer can keep sharing photos as the events happen.
Ask your photographer to upload digital images to an online album which you can share with all the guests via email.
Have a dedicated photographer for group shots.
Many photographers have an online printing option. Ask for one in case you want your guests to get a print for themselves.
So tell your guests to leave their cell phones, their iPads and all their worries at home and simply enjoy the wedding. Unwind and unplug.