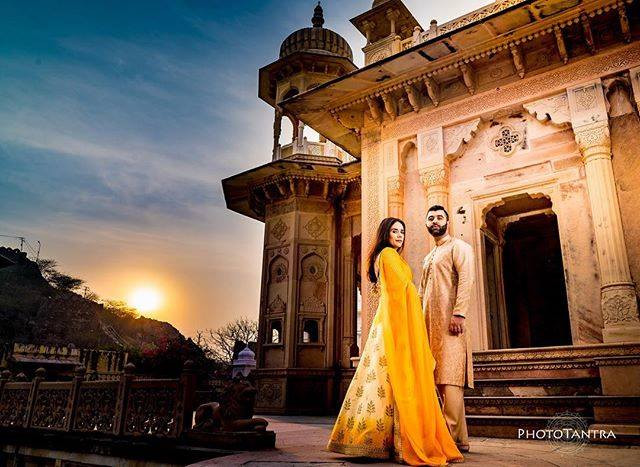 As international destination wedding photographers specialising in NRI weddings and palace weddings in India, we are often asked questions about our style of photography and how do we work as wedding photographers for big business families. We understand that big destination wedding planning can be so overwhelming that it becomes a task to keep everything under control. However, we feel that asking questions help which is why we always welcome couples to ask us as many questions about their wedding photography.  So here are the list of very relevant and frequently asked questions which we get asked by our brides. Feel free to add your wedding photography question in the list and email it to us. We will be happy to answer them for you, be it concerning how to pose or how to face the camera if you are camera shy or how do we style you for a portrait etc.  
So here are the questions you must ask your wedding photographer:-
Are you available to shoot? Needless to say, you must ask the chosen photographer if he or she is available to shoot at the destination and on the specified date.
What are your booking terms and cancellation policy? If the photographer is available to shoot and you are almost sure to go ahead with the photographer, then your next question should be the booking and cancellation procedure. Just because you have been talking to the photographer does not mean that he/ she has already blocked the dates for you without you actually having made any booking by paying the booking amount. 
Will I get a wedding photography agreement? Always insist on an agreement with all the terms and conditions explicitly mentioned. This will save you from any last minute surprises. The thumb rule is when in doubt always ask for a clarification.
Can you offer wedding photography within my budget?  Do not be afraid to state your wedding photography budget and ask for a quote within that budget. Wedding expenses always spill over the budget due to many last minute unscheduled plans or simple oversight. This can happen with wedding photography too. Try to give as much details to your photographer so that you get a customised wedding photography quote. Always, insist on a customised package because no two weddings are the same hence one size can't fit all. You might have last minute smaller functions to be photographed which you never planned for or you might feel the need for an extra photographer for a special guest at your wedding or it could be that you are planning a very intimate wedding where you need a small team of wedding photographers for photo documentation of all your closest of friends and family.  Share as much details of your wedding and ask for a customised wedding photography package.
Will you be shooting my wedding or will someone from your team come to shoot? Many times photographers who run their own photography business may have huge teams and you may not know till the last moment who will come to shoot your wedding.  This is specially true if you are booking a studio.  Since, photography is highly dependent on a photographer's personal style you must know the photographer who will be leading the team so that you are aware of the style or the type of photos that you will receive.
Can we see your full image gallery? These days for SEO purpose a lot of photographers use words like Top 10 wedding photographers, Best rated wedding photographers however, what is best or not is something that you will have to decide by doing a background check. It is your wedding day after all and you can't take chances. Insist on looking at full gallery or albums and ask for client references. Awards can be bought, ratings can be bought but you can't buy client references. Also, look how many years of experience the photographer has, this will ensure safety for the risk that you are taking with your money. A more experienced wedding photographer would mean that the person knows the job and is prepared for any emergency and can solve problems thereby simplifying your life on the day of your wedding. Another place to look for your wedding photographer's credibility and reputation is respectable publications, Channels or websites which have written or talked about or featured the wedding photographer's work.
I want my wedding my way. What is your wedding photography style? Does it suit my sensibilities? Share your wedding photography vision with your photographer. The kind of photos that you are looking for. If the photographer does not offer that style it is better to not hire that person rather than feel disappointed later because he did not take that special family portrait as his style did not match your taste.  Many candid wedding photographers refuse to shoot group shots or posed photos. It is simply a style of photography that they don't do. However, if you are planning a big wedding at a destination then you must engage a photography company which offers you a good balance of posed, staged as well as candid photography. Destination weddings are all about family and friends coming together from all over the world at a beautiful location. The venue, the people are as important as the couple. You might want to give away beautifully framed portraits as wedding favours. You might want to remember the mehendi décor by the swimming pool years later or just hang a family photograph on the wall besides getting all rituals photographed. So it is important to have that clarity as to what is it that you want to keep as a wedding memory, share your idea with the wedding photographer and be sure that both of you are on the same page.
 I am expecting a lot of VIPs at my wedding. How will you handle that? This question often comes from couples from big business families or entrepreneurs. Always ask for a dedicated photographer if you feel that you need special photo and video coverage for your VIP and celebrity wedding guests. Specify the dress code if there is any for black tie event for instance. Let your photographer know if they need to carry IDs or passes for events with restricted entry. 
How will you shoot surprise events without making it obvious? Do not keep surprises for your photographer because it might backfire. If you are planning a surprise proposal or a flash mob at your wedding please keep your photographer informed else your photographer will be more surprised than you and may miss the moment.
Is it important for photographers to work with wedding decorators? If you have a wedding planner or a wedding decorator then make sure that your wedding photographer and your wedding decorator are introduced before the lighting, colour schemes and various installations are finalised. Photography is hugely dependent on light hence you can't expect great photographs if your lighting is not well designed. Warm, natural coloured yellow lights should always be your first option. Same goes for lighting on the stage and height of stage. It is also a good idea to have dedicated spaces for your photographers to stand for shooting the mandap especially if you have a mandap built on a swimming pool or if you are doing live streaming and want a clear view.
Do you shoot bridal makeup and behind the scenes? Many couples want their getting ready photos and photos and videos of their sangeet night rehearsals. These give you fun, happy memories.  There are many photographers who shoot the makeup and fun bridesmaids photo sessions however, it is wise to ensure that the hotel or the salon allows photography because many hotels may have designated areas for photography and many salons may have a strictly no photography rule. Also, inform your friends and family about BTS (Behind the scene) photography so that they are not caught by surprise in their nightwear.
How do you photograph a camera shy person? How do you make brides pose? Many of us feel very conscious of being photographed continuously. Many of us also have body image issues. Ideally we should just enjoy our wedding day without worrying about a camera following us and be very comfortable in our skin but you will be surprised to know that we have got so many couples who worried about things like their height difference, body weight, their posture etc. Always remember that you are not alone and it is the job of your wedding photographer to make you feel comfortable. It is the photographer's job to make you pose in a way that it compliments your body.  Accentuating your features and making you look your best in your bridal photos is what a good wedding photographer will always do.
How big will be the photography team size? How many people will be travelling? Always ask about the team size and about your responsibility for providing hotel, travel and food. It is ideally a good idea to hire one single wedding photography company for photo and wedding films. Find out how many photographers, videographers, production people, sound artists and assistants would be travelling and if you are responsible for making their travel and stay arrangements. Don't shy away from asking your photographer to make travel arrangements if that is something you want. You can choose to reimburse your photographer or pay the travel and stay money with the booking amount. You can also ask for an all inclusive quote if that is more convenient. It is usually a good idea to have a couple of rooms at the same venue as the wedding especially for the photographers who are leading the team. This room can be used for resting in between shoots, for storing and charging equipment and batteries and also for taking data backups. This arrangement can also save travelling time from other hotels to the wedding venue thereby avoiding any possible delays due to traffic. It is also a good idea to give your photography team a dedicated car so that valuable time is not lost in waiting for a shuttle service.
Should you feed your wedding photographer? Always clarify the food part too. Chances are food is a cost which you might have to bear because food packets are still looked down upon in India and chances are your wedding photographer will not be too happy eating from a cold, soggy food packet sitting in one dark corner of the hotel.  However, feel free to ask if your wedding photographer can make arrangements with the chef at the hotel for a special buffet for the team which might be more cost effective for you. You can ask your hotel about the same where they can arrange a simpler buffet along with other guests for the team.
What are the other add-on services? Always ask about any extra services that the photographer might be offering. Many wedding photographers offer a 360 degrees streaming and VR wedding video, pre-wedding or save the date shoot, same day edit, slide shows, prints and high end photo books.
What is your contingency plan? Ask about any contingency plan like camera malfunctioning, data loss and last minute requirements for more rituals to be shot, extra days of shoot or requirement for more photographers than already agreed upon. Remember to also ask the associated cost for any extra service or extra photographers.  
 When will I get my photos? Don't forget to ask about delivery timelines for edited video, colour corrected photos and albums. Please know that photo processing and video editing is a very time consuming process. For a standard 3 day Indian wedding, the number of photos can be as high as 15000 out of which the photographer has to choose the best and colour correct the best of the best. Same goes for videos. Video footage needs to be selected before they can be edited into a meaningful wedding film. Every round of video editing change and album design change is also time consuming. The more proactive you are in sending your suggestions for changes the quicker the delivery timeline will be.
Do I get a dedicated relationship manager for my wedding photo and video deliveries? Ask about your options for a dedicated relationship manager to follow up on your wedding photography deliveries.  Many photography companies have dedicated relationship managers for their hi-end clients. Ask for your options for an album designer who can work closely with you. Chances are you may be able to get a designer to work closely with you on your albums. This service could be paid or complimentary depending on your photographer.
How do I submit my wedding photos in a wedding magazine? These days many designers want brides to tag them on their Instagram. There are many wedding magazines and websites which are hungry for content and want to feature your wedding. You can ask your photographer for some quick photo submission so that you can get them featured wherever you want. However, as a courtesy never forget to give credit to the photographer. Many times the photographer can directly do the photo submission on your behalf. Similarly, in case you do not want your photos to be published anywhere please inform your photographer before and preferably in writing.
In the end, enjoy your wedding because this day will not come back. Hire a wedding photographer who knows the job and makes you feel comfortable from the word go.  Wish you a fun wedding.